Description
MCI-2012 IntegraPel is a concrete waterproofing admixture designed for protection of steel reinforcement in concrete structures. MCI-2012 IntegraPel contains time proven Migrating Corrosion Inhibitors (MCI) and simultaneously reduces ingress of water and other corrosive elements into concrete, enhancing the corrosion protection properties. It is particularly suited for use in structures exposed to corrosive environments.
View Product Data Sheet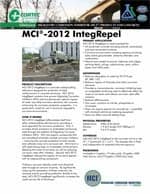 View Editorials and Technical Articles
FEATURED IN: Cortec Admixture Inhibits Corrosion Featured in Gulf Construction!
NEWS ALERT: Cortec's MCI®-2012 Integrapel Featured In April Issue of Coatings Tech Magazine!
FEATURED IN: MCI®-2012 IntegraPel in Spec Source Global!
FEATURED IN: MCI-2012 IntegraPel Featured in European Coatings!
View Safety Data Sheet