Description
MCI®-2019 is a 40% silane, solvent-based concrete water repellent containing time-proven Migrating Corrosion Inhibitors™ (MCI®). MCI®-2019 is a small molecule product that can easily penetrate into concrete, providing water repellency by chemically reacting with cementitious substrates under proper application. MCI®-2019 seals surface pores which prevents intrusion of chloride and carbonation and protects from the ingress of wind-driven rain. Treated areas retain their original appearance and are fully breathable – retaining their natural moisture-vapor transmission.
MCI®-2019 FD is a special version of MCI®-2019 containing a fugitive dye, which fades with time, to confirm application.
Package: MCI®-2019 and MCI®-2019 FD are available in 5 gallon (19 L) pails, 55 gallon (208 L) drums and 275 gallon (1040 L) totes.
To ensure best product performance, store in original packaging, indoors, and out of direct sunlight at 40-100 °F (4-38 °C).Shelf life: 1 year from date of shipment
View Product Data Sheet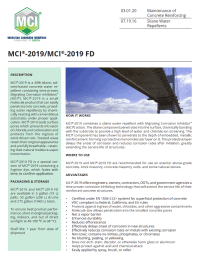 View Editorials and Technical Articles
FEATURED IN: MCI®-2019 Featured in Construction Pros Magazine!FEATURED IN: Cortec MCI 2019 Featured in CoatingsPro!
FEATURED IN:Cortec's MCI-2019 Featured in Durability and Design Magazine!
FEATURED IN: Cortec's MCI-2019 Sealer Featured in Coatings World Magazine!
FEATURED IN: MCI 2019 Featured in European Coatings Magazine!
View Safety Data Sheet