Description
MCI-2020 M SC is a super concentrated surfaceapplied corrosion inhibitor designed to migrate through concrete structures and seek out steel reinforcing bars embedded in concrete. This product protects carbon steel, stainless steel, galvanized steel, and aluminum. MCI-2020 M SC provides effective protection to metal due to enhanced film-forming properties, reducing further corrosion on metals and extending the service life of the structure.
Note: A UV tracer may be added upon request. (MCI-2020 M SC UV)
MCI-2020 M SC is also available with a blue fugitive dye (MCI-2020 M SC BFD) which helps to easily identify treated areas.
View Product Data Sheet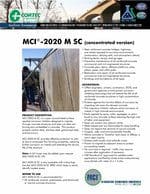 View Editorials and Technical Articles
View Safety Data Sheet