Description
VpCI-422 effectively removes rust and tarnish from steel, iron, copper, brass, and chrome. VpCI-422 removes corrosion from metal without creating waste disposal difficulties and is more operator friendly than traditional rust removers.
VpCI-422 G is a modification of VpCI-422, which is recommended for galvanized steel. It will not adversely affect most paints, plastics, wood, textiles, ceramics, or rubber when used as recommended. Removing corrosion from metal is easy; just apply VpCI-422 and rinse with water.
VpCI-422 is completely organic and does not require special disposal for typical use. It is especially helpful for outdoor and marine applications where chemical waste disposal can be a problem. In rare situations, waste treatment may be required if large quantities of pollutants are accumulated during cleaning.
Unlike conventional rust removers, which can be extremely dangerous to use, handle, and store; VpCI-422 is non-flammable and biodegradable. It can be used in labor-intensive areas such as continuous assembly and packaging lines minimizing effects on production efficiency.
View Product Data Sheet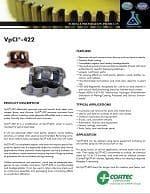 View Editorials and Technical Articles
FEATURED IN: Drilling Tools Restoration Featured in IPCM October
View Safety Data Sheet
View SGS Report/RoHS Compliance Documents
VpCI®-422 Organic Rust Removers: Chinese
VpCI®-422 Organic Rust Removers: English