Description
MCI-2020 Powder is a water-soluble migratory corrosion inhibitor for the treatment of existing concrete structures. It is designed to migrate through even the densest of structures and seek out embedded steel reinforcing bars. MCI-2020 Powder also protects a multitude of other metals including carbon steel, galvanized steel and aluminum. The unique feature of Migrating Corrosion Inhibitors (MCI) is that even if not in direct contact with metals, the inhibitor will migrate a considerable distance through concrete to provide protection. MCI-2020 Powder will reduce corrosion of reinforcing metals and extend the service life of the structure. A special version of MCI- 2020 Powder – MCI-2020 V/O Powder is designed for vertical and overhead applications.
View Product Data Sheet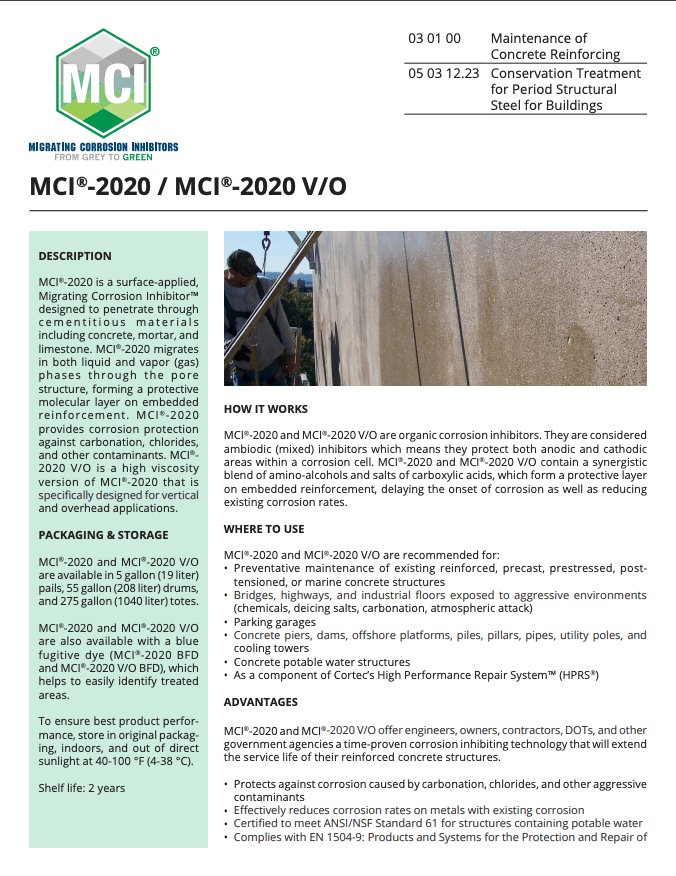 View Editorials and Technical Articles
FEATURED IN: MCI®-2020 Featured in July/August 2015 Issue of Facility Executive Magazine!
View Safety Data Sheet