Description
MCI® Creteskin is an industrial strength release agent containing Cortec's Migratory Corrosion Inhibitors (MCI®). MCI® Creteskin is designed for protecting equipment, vehicles, and forms in the construction industry. MCI® Creteskin prevents adhesion of cementitious materials, salts, and other abrasives on painted and unpainted metal surfaces. It also provides corrosion protection to the underlying substrate, enabling continued use and a longer lifespan.
View Product Data Sheet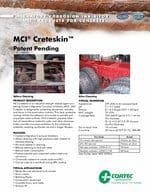 View Editorials and Technical Articles
FEATURED IN: Cortec MCI Creteskin Featured in Lubs and Greases Magazine!
FEATURED IN : MCI Creteskin Equipment Protection Featured in Concrete Construction Magazine!
View Safety Data Sheet